ANCIENT VILLAGES OF DUONG LAM
10:39 08/10/2016
*** Lịch trình tour:
(TRACING BACK THE ORIGIN OF CULTURE & TRADITION)
Duong Lam ancient Village has been known as a museum of surviving laterite (red clay formed from weathered basalt found in northern Vietnam) with ancient houses aged up to 400 years old.
After the recognition of Hoi An ancient town and Hanoi Old Quarter, Duong Lam was recognized as a national relic in 2005. Visiting Duong Lam is a journey to trace back the origin of Vietnam's culture and its traditions. It is also the great chance to experience unique architecture of ancient houses while wander along its narrow alleys, visit temples of the two kings born there, and chat with locals in their ancient houses.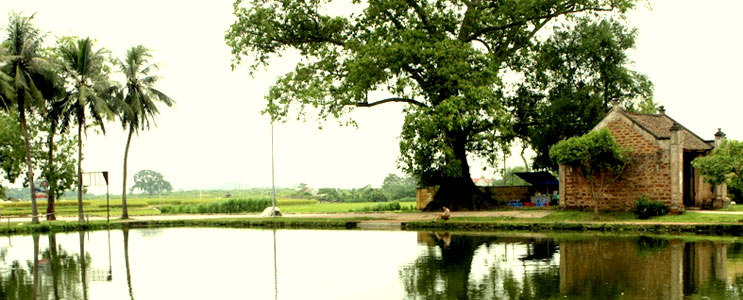 DETAILED ITINERARY
07:45 - 08:30 Meet your tour guide at suggested places around Hanoi Old Quarter, depart for Duong Lam ancient village(60km from Hanoi center).
- Visit Son Tay citadel built in 1822 - a Vauban fortification and a masterpiece of Vietnamese architecture.
- Arrive at Duong Lam village, see Mong Phu temple, ancient houses, taste local rice wine, rice cakes.
- Ride a bicycle along peaceful road to historical vestiges: Temples of King Ngo Quyen and Phung Hung.
- Visit a natural holy "milking-well" storing clear water all the year round. It is believed that childless couple can give a birth if drinking this water.
12:00 Have lunch in a 400 year - ancient house and be well treated as a special guest with local tea.
- Visit Tay Phuong pagoda built in the 8th century – a typical pagoda in the North of Vietnam and special with 18 ancient Arhan statues.
- Visit Van Phuc silk village, the cradle of best silk in Vietnam once. You learn about silk making process and experience the local silk market in Van Phuc village.
Drop you off at hotels. Tour ends.
TOUR INCLUDES:

Modern air-conditioned bus.

Lunch.

All sight-seeing fees.

Biking in Duong Lam.

English speaking guide.

TOUR EXCLUDES:

Travel insurance.

Tax.

Beverages.

Tips/Gratitudes

Personal expense
Please contact us now to get 10% discount: customercare@goldencyclohotel.com